Asics opens low-oxygen training center in Osaka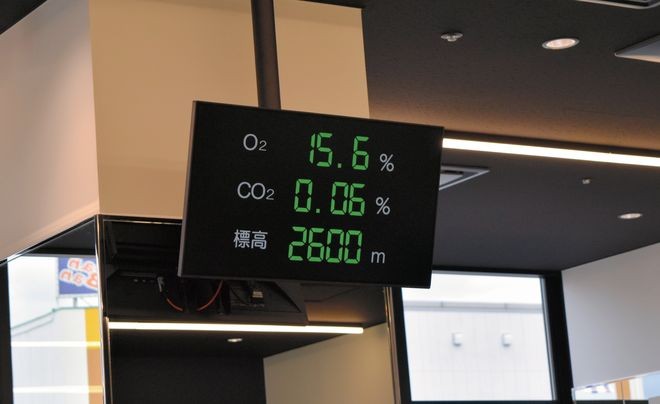 SUITA, Osaka Prefecture – Sportswear manufacturer Asics Corp. brought the high altitude, low oxygen conditions of Mount Fuji to a more convenient location for athletes looking for a training advantage.
The Asics Osaka Suita Sports Complex opened May 2 on the second floor of a commercial facility about a nine-minute walk from Kishibe Station on the JR Kyoto Line.
The fitness center has a total area of ​​approximately 450 square meters, including 120 square meters for a low-oxygen workout room equipped with treadmills and stationary bikes.
Many athletes, including distance runners, train at high altitudes because it increases their endurance and cardiorespiratory function faster than training at sea level.
The oxygen concentration in the air at sea level is about 20.9%. But the concentration is fixed at around 15.7% in the Suita training room by adding nitrogen gas to the air. It is as thin as air at 2,500 meters above sea level, equivalent to a point between Mount Fuji's Sixth and Seventh Stations.
The room provides a high altitude environment without changing atmospheric pressure.
According to Kazushige Goto, a professor in the Department of Sports and Health Sciences at Ritsumeikan University, the body uses glycogen which provides energy and increases blood flow when exercising in such an environment.
"I am so exhausted. It's hard to talk," said Mizuki Noguchi, women's marathon gold medalist at the Athens Olympics in 2004, after training at the facility during a media preview on April 26.
"I trained at an altitude of 1,900 meters during my active years, but I had no idea that the training load would be so different at an altitude of 2,500 meters," she said.
Boulder in the US state of Colorado, the Chinese city of Kunming and St. Moritz in Switzerland are among the mountainous places well known as high altitude training sites.
But it costs time and money to visit these places.
"It's great to be able to do demanding training early in the morning and after work in a city," Noguchi said.
This is Asics' second high altitude training facility. The first opened in Tokyo's Toyosu district in November 2019.
The Suita training center is open to professional athletes and the general public. Asics expects to attract 600 members a year, mostly health-conscious and physically fit people in their 30s to 50s.
The training center is more expensive than regular gyms. An initial membership costs 22,000 yen ($170) and full-time members must pay a monthly fee of 19,800 yen.
"We want to provide the latest added value using the expertise we have accumulated through our athlete support efforts," said Masaaki Koizumi, senior general manager of Asics' business promotion division.
Asics, in its long-term vision for the next decade released in the fall of 2020, said not only to develop and sell products, but also to provide services and an environment to promote health and sports as a core business. .
The Suita Low Oxygen Training Center is part of this effort.
Asics promotes the concept of "crossover" in its low-oxygen gyms, hoping that high-level athletes, ordinary people and people with disabilities can improve everyone's performance while training in the same place.
"I slack off when I train alone, but training with others has a positive effect," said Atsushi Yamamoto, a long jumper with a prosthetic leg who competed at the Paralympic Games in Tokyo, at the Tokyo Paralympic Games. premiere. "I am based in the Kansai area, so I hope to be able to use the facility on an ongoing basis."