Despite injuries to two starters, Kansas ends training camp 'in the best shape possible'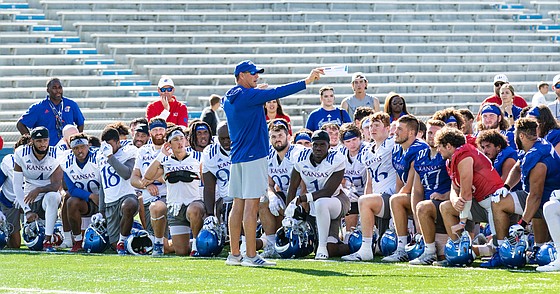 [ad_1]
Redshirt senior defensive tackle Caleb Sampson and redshirt sophomore right guard Armaj Reed-Adams each missed open practice the Kansas Football Team held Saturday at David Booth Kansas Memorial Stadium with injuries. not specified.
Both players, who are slated to start the season opener Sept. 2 against Tennessee Tech, didn't join their teammates on the court until midway through the roughly 90-minute session.
"They've been out most of the week," coach Lance Leipold said. "We are still waiting to see, but we expect them to return soon."
Reed-Adams wore a thin brace on his left knee and Sampson had no visible additional support or bandages once they entered the pitch. Both stayed afterward to sign autographs and meet fans who attended the event.
With Reed-Adams out, redshirt senior Dominick Puni, a transfer from central Missouri, replaced the top unit. Sampson, expected to be the top pair alongside sixth-year senior Sam Burt, had his absence filled by redshirt senior Eddie Wilson.
Collectively, the Jayhawks have been relatively healthy throughout training camp; the only player who missed multiple days is sophomore safety Jayson Gilliom, who hasn't practiced at all with an unspecified spring injury.
That's in contrast to a team like Texas, which lost junior wide receiver Isaiah Neyor and senior redshirt guard Junior Angilau, a pair of projected starters, to ACL tears last week.
"The closer we get to kick-off, we want to make sure we're in the best possible shape," Leipold said, "and hopefully we continue to train in such a way that we're as close to full strength as possible. as possible. be."
Open practice marks the end of training camp
Saturday's practice means training camp is over and it's time to prepare for the season opener.
"You put all that work in, especially from January to now, and you get closer to what you're doing everything for," Leipold said after practice, which took place in front of around 350 fans. "Sometimes I struggle if you're not excited about it. You put eight months of work into something and I hope you embrace the excitement to get there."
After taking Sunday off, the players will start lessons on Monday and adopt a more traditional schedule that will include morning practices followed by schoolwork.
The Jayhawks wore shells and shorts for Saturday's practice, which means the physicality and intensity were reduced compared to a normal session. Leipold also gave a significant number of reps during team drills and seven-on-seven work to substitutes and those who had missed time earlier in camp due to injury or illness.
"Camp has been a grind, but there's a game in sight," said senior tight end Mason Fairchild. "There's a lot of excitement. As the game gets closer, you'll feel like time is slowing down because you're waiting for that game, but it's going to get tough because school is starting and all the distractions, but stay focused on the game is what we focus on."
[ad_2]
Source link