First OUWB golf outing provides good time and benefits medical students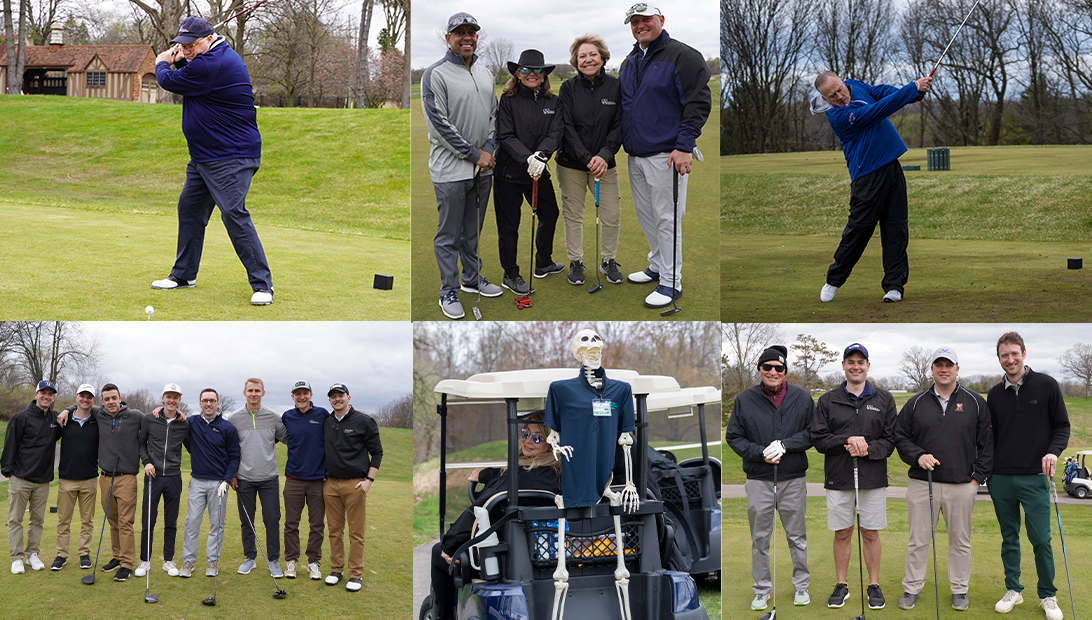 The first golf outing hosted by Oakland University's William Beaumont School of Medicine delivered on two promises: a good time for everyone and for a great cause.
The OUWB Golf Outing took place on Monday, May 2 at the world-class R&S Sharf Golf Course at Oakland University Golf and Learning Center.
More than 140 golfers participated in the event designed to support scholarships for medical students.
The title sponsor was ACO Beaumontand the afterglow sponsor was Michigan Blue Shield Blue Cross. Additional sponsors have been Health priority, Pixley Funeral Homes, Michigan Orthopedic Surgeons, P3 Physiotherapy, electric rayand Richard Kennedy, Ph.D., Associate Dean for Research and Professor in the Department of Basic Medical Studies. There was also an anonymous title sponsor.
Duane Mezwa, MD, Stephan Sharf Dean, OUWB, thanked all golfers and sponsors at the afterglow event. He also announced that the second OUWB golf outing is already scheduled for May 7, 2023.
"I promised when I arrived three and a half years ago that I would do everything I could…to try to put money back in students' pockets," he said.
"The reason I wanted to do this event was to raise money for students and have a great time doing it."
According to American Association of Medical Collegesgraduate medical student debt averages about $207,000.
Mezwa said OUWB has taken several steps to bring its students up to around $203,000.
Such measures, including the golf outing, mean a lot to students like Nataly Salman. The first-year medical student spoke to the afterglow.
"Studying medicine was something I knew I had always wanted to do, but…it's sometimes hard to do when the cost doesn't always seem too affordable," Salman said.
Nataly Salman, M1, addresses the crowd at the afterglow event.
Salman thanked golfers and sponsors for helping students like her achieve their dreams at OUWB.
"Your generosity is a reason some of us can be here today," she said. "The words 'thank you' are never enough to express our immense gratitude."
"When I serve the community as a doctor or make discoveries as a scientist, or lead and teach the next generation of dreamers, I will remember that this type of contribution and what you have done is part of of the impact and I will "hold this feeling close to my heart," she said. "I swore to return the same act of selflessness, (and) that act of random kindness."
Judy Didion, Ph.D., RN, dean of OU's School of Nursing, said Salman's speech best summed up the day.
"It really shows how an event like this brings us all together for the greater good," she said.
"A good way to have fun"
Claus Weimann, Director of Philanthropy, OUWB, said: "It was truly wonderful to see so many people and organizations coming out to support future doctors at OUWB."
James Grant, MD, Senior Vice President and Chief Medical Officer, Blue Cross Blue Shield of Michigan (BCBSM),

said it was "the pleasure of (BCBSM) to sponsor" the release.
James Grant, MD, senior vice president and chief medical officer, Blue Cross Blue Shield of Michigan (BCBSM), said it was "(BCBSM's) pleasure to sponsor" the release.
Grant, also a member of the OUWB Dean's Advisory Councilsaid Blue Cross Blue Shield sees itself as a "health care partner that supports the community."
"Supporting future generations of physicians is important to us…it's what it's all about and we thank (OUWB) more than you know," he said.
Golfers generally expressed similar support for OUWB as the primary motivation for participating in the outing.
"I really like the school and what they do," said Joseph Anderson, MD, an oncologist at Beaumont, Royal Oak. "They did a good job and I want to show my support."
Chris Carpenter, MD, chair of internal medicine, OUWB, said he not only enjoys seeing his colleagues in the social setting, but also on behalf of a good cause.
"Our medical students need extra support and this is a really good way to provide it," he said.
Several current OUWB students participated in the golf outing.
"It's a great opportunity to talk to people who aren't necessarily just within our school, whether it's doctors, administrators or people at Beaumont," said Garrett Peters, a student in first year of medicine at the OUWB. "It's also a great way to have fun."
Austin Kantola, M1, said he loves golf and called the outing "a perfect opportunity to network with doctors".
The OUWB alumni were among those doctors.
S. Brandon Luczak, MD ('15), an orthopedic surgeon with Trinity Health, was part of a contingent of first-class OUWB golfers.
"I just wanted to support school and play golf on a Monday," he said with a smile.
Chris Jaeger, MD, ('15) – who will be the alumni speaker at the OUWB launch on May 13 – said he used to play golf with his classmates on the golf course Katke-Cousins, which is also on the campus of Oakland University. .
The Boston Children's Hospital pediatric urology fellow said he was surprised at the turnout for the golf outing.
"I didn't know so many people not only cared about our medical school, but wanted to give back," Jaeger said. "That's pretty awesome."
Still others, like Lila Lazarus, an award-winning news presenter and health journalist, said the day was all about "fun, love and adventure".
"As part of that — the fitness and wellness part, in particular — you have to get out there and really have fun every day … you have to find a little joy every day," she said. "Every time I'm on the golf course at Oakland University, it's joy."
For more information, contact Andrew Dietderich, Marketing Writer, OUWB, at [email protected]
To request an interview, visit the OUWB Communications & Marketing webpage.
NOTICE: Unless otherwise stated, all articles are published under a Creative Commons Attribution 3.0 License. You are free to copy, distribute, adapt, transmit, or make commercial use of this work as long as you credit William Beaumont School of Medicine, Oakland University as the original creator and include a link to this article.