Kings come off ice in Washington, McLellan & Doughty detail benefits of different type of coaching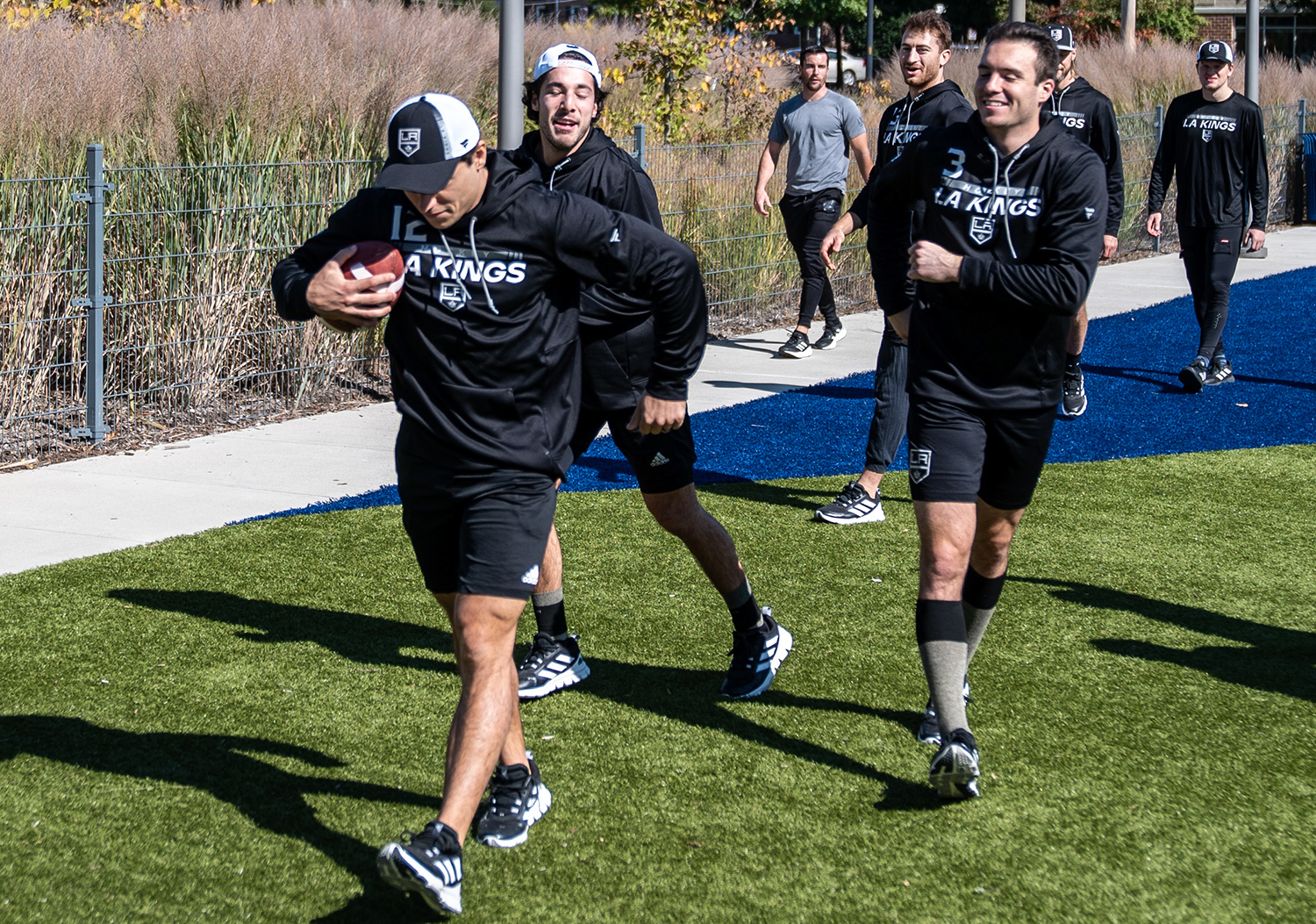 [ad_1]
Two days remaining on a road trip that has seen the Kings go 3-1-0 so far. It's been wild at times, weird at times, and it certainly hasn't been perfect. But, through it all, three wins in four games is three wins in four games and the Kings have a chance to make it four out of five tomorrow, in a building that created a momentous win a season ago. .
"We can make it a great road trip, I think someone said good, but it's a great road trip if we win four out of five," Drew Doughty said today. "It's a very good road trip. We're not planning on going home right now, we have a big game against Washington and we didn't perform well in the last game. We're going to come out hot, that's the plan anyway, and have a really good game.
It's been a strange journey in terms of structure.
It's day eight of nine away from home and the Kings have their first day of practice outside of Los Angeles. Typically, the NHL sees teams play about every other day, allowing for at least some type of leg-moving practice between games. The Kings practiced in Los Angeles last Friday before immediately departing for Minnesota. Games on Saturday, Monday and Tuesday were surrounded by holidays on Sunday and Wednesday, ahead of last night's game in Pittsburgh. With only today as an option to hit the ice, but also managing the busiest game schedule in the league at the start with six games already, the Kings had a choice to make today, while respecting the way whose CBA-mandated teams carve their schedules.
"He is [different] the way the schedule went, the ABC mandates a certain number of days off and we respect that for sure," McLellan said. "The players need a rest and we haven't had a lot of practice time so some will be like 'well why didn't you skate today'. We just thought our energy would be much better doing what we were doing. Using the four days off from the short month of October, we had to pick some of those days on the road trip to give them days off and so it's a different type of trip. But it has a chance of being a real successful journey if we play the way we can get the results we need.
There were, believe it or not, some good things we haven't seen from the Kings yet this season in last night's loss, especially in the first period. Shot volume and forechecking prevailed throughout the first 12-15 minutes of the game, even after conceding the first goal. The second and third goals against, however, took a toll on the team's mental state after one, going from 1-0 down to 3-0, despite looking a lot more like last season's side at times. There's also the idea that, despite having possession of the puck and controlling the flow of play, the Kings only had a few real scoring opportunities. As Anze Kopitar said last night, there will be games like this throughout a season and the Kings would do well to take the hits from those and move on.
Today, the team has opted for a different type of practice, with much larger goals and skates not required. The Kings headed to a local park for a different kind of workout, with soccer and power-walking football played within the group. Fieldwork completed a video session with the whole group. While there are certainly areas on the ice that need attention, there is also the need to manage the mental side of the team and focus energy on the final day of a long journey. That day is tomorrow with a game against Washington.
"Well, we had two off-ice practices," McLellan said. "We had one in the video room which was really important, where we addressed some of our shortcomings, things we need to prepare for and improve. Then we went out, we did 15 or 20 minutes of training, it's a beautiful day here in Washington, there was a park nearby. I think sometimes it can really energize a group, especially at the end of a trip. The first trip of the year has been a long one and it's all about being ready to play tomorrow and being fresh. I think the guys enjoyed it, enjoyed it and now the proof will be in the pudding to see if we have the energy we need in Game 5 tomorrow.
Speaking with one of the team's point guards, defenseman Drew Doughty, he was inclined to agree.
As McLellan said, there were two parts to today's off-ice practice, and both were important. The video component, after a five-goal loss, was important as the Kings identified several areas for improvement. Doughty naturally focused on the defensive side of the play when it comes to video, with
"We just don't make good decisions, these are very fixable, very fixable things," he said. "We watched them today, it's actually quite embarrassing how many things we miss defensively. That's not how we operate, that's not how LA Kings hockey is played. We are a good defensive team and yes, we want to improve the attack that we have, but we have to start playing good defense again.
That's not to say the video session was entirely negative, though there are clear areas of focus for the Kings in those sessions.
McLellan once again highlighted the first half yesterday on the positive side of what was looked at, with other areas certainly highlighted the other way around, as Doughty noted. A video day was important, to go through a wide range of things and not just the Pittsburgh game, as trends emerged back and forth.
"There are so many things [we focus on] and keep in mind. I think when you think of a reunion you just think of the negative and that's not so," McLellan said. "We did a lot of things well in that first period yesterday in terms of forechecking and forechecking toughness, the ability to keep plays alive. That changed when we lost three, we lost some confidence and we can fix that. There are commonalities on both sides, special teams, power play, shorthanded face-offs, 4-on-4 play, overtime, things we've dug into but not enough. It will happen when we get home.
Doughty added that an analytical look at the video was better play today for the group than a grinding workout, Day 8 of a road trip with a game tomorrow.
It can be difficult to adopt that mindset from the outside, after a five-goal defeat, but that's where the coaches and players landed today.
"When you play a lot of games like this, we don't have a lot of free time, so I think sometimes it's important to rest on training days," Doughty added. "Yes, training is important too, to refine, but we will be able to get some pre-game states and I think it was a good day. We were able to have fun, we still sweated like we would on ice, it was just more fun.
The Kings will be back on the ice tomorrow morning for a morning practice before the game against Washington. One would assume that tomorrow will likely be full team skating, as opposed to an optional whirlwind like the Kings used earlier in the season. Defenseman Alex Edler looks set to make a comeback for the Kings, now with two morning skates under his belt. No player, even Edler, has taken to the ice for more custom work, but with the veteran now healthy and available, and the Kings looking for defensive solutions, it makes sense to bring him back against Washington.
Preview to follow in the morning! Enjoy some photos from today's practice below.
[ad_2]
Source link